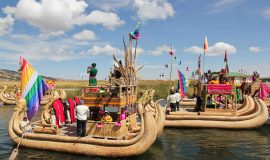 City tour to the Cassinelli Museum, The Perimeter Wall, Visit to the Chan Chan archeological complex and the Rainbow Temple or Huaca El Dragon.
Visit Sicàn Archaeological Project and the Pomac Forest, museological exhibition in the East and West Tombs of Huaca Loro, ceremonial knife.
Visit the Thermal Baths, visit to the Colca Canyon, you could appreciate the majestic flight of the Condor.
Visit Pukara, La Raya, Sicuani, Raqchi and Andahuaylillas, then heading to the majestic archaeological remains of Machu Picchu.