A transparent capsule lunch at about 400 meters in the Valle Sagrado de los Incas. It's an adventure in the sky and enjoy one of the best meals in the world.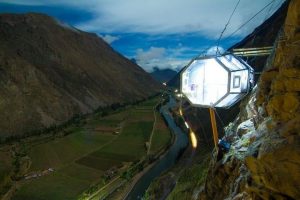 This wonderful capsule lunch service offers Skylodge Adventure Suites. It would allow open reservations for travelers who do not spend the night in their capsules.
You will be able to enjoy an exquisite variety of Peruvian gourmet food including soup, salad, main course and dessert. In addition to a glass of wine or champagne and non-alcoholic beverages.
The proposal includes the transfer of passengers to and from their hotel.
Access to the Skylodge restaurant, which, like the capsules, is totally transparent, can be by climbing the via ferrata or the zipline path and its descent by rappel or 7 zip lines.
The experience occupies from the morning until the end of the afternoon of a day.
The maximum capacity is 12 people and does not require travelers the conditions of a mountaineer, only love for adventure and new experiences.

Lima and Cusco: Overnight in Sacred Valley and Machu Picchu
(07 Days and 06 Nights)